2017 | OriginalPaper | Buchkapitel
11. Reproductive Organ Development in the Ivory Shell
Babylonia japonica

and the Rock Shell

Thais clavigera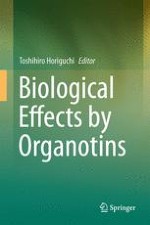 Erstes Kapitel lesen
Autor: Ph.D. Toshihiro Horiguchi
Verlag: Springer Japan
Abstract
Results of histological examination of normal differentiation and development of the genital tract and gonad in the ivory shell
Babylonia japonica
(Buccinidae) are described. The formation of male-type genitalia (penis and vas deferens) in imposex-exhibiting females seems to mimic the normal development of male genitalia in prosobranch gastropods, on the basis of observations using a wild-caught 2-year-old specimen and laboratory-reared juveniles aged 0–24 months. Gonad differentiation was unclear before age 14 months but progressed after 16 months. Both sexes had a complete genital tract and mature gonads at 20 months. However, differentiation and development occurred earlier in females than in males. Development of the genital tract preceded gonad differentiation. Vas deferens morphogenesis in males resembled that in imposex-exhibiting females. Histological examination of the development of male genitalia in imposex-exhibiting female rock shells,
Thais clavigera
(Muricidae), using specimens from a wild population and tributyltin (TBT)-exposed females in the laboratory, allowed observation of a variety of vas deferens morphogenesis patterns. Taking into consideration observed results both from wild female specimens and from TBT-exposed females in the laboratory, the vas deferens sequence (VDS) index for
T. clavigera
has been proposed as VDS 1–6, which is a little different from that for
Nucella lapillus
. Comparison of the differentiation and development of male genitalia in normal males and imposex-exhibiting females among gastropod species implies it does not seem to be strictly regulated: relatively large variation in the differentiation and development of genitalia could occur among individuals, as well as among species of prosobranch gastropods.