2014 | OriginalPaper | Buchkapitel
2. Research Background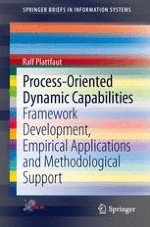 Erstes Kapitel lesen
Autor: Ralf Plattfaut
Abstract
Business Process Management (BPM) is a holistic management approach towards changing an organization's business processes (Armistead and Machin
1997
,
1998
; Pritchard and Armistead
1999
; Rosemann et al.
2006
; Zairi
1997
). Following Becker and Kahn (
2010
), business processes can be defined as time-logical sequences of activities that are conducted to work on a process-oriented business object (e.g., an invoice) to achieve corresponding business goals. In turn, BPM refers to changing these sequences of activities. As such, it is a top business and IT priority in organizations and a core topic in IS research. The roots of BPM are twofold (Niehaves et al.
2011
): Firstly, BPM is based on the concept of Business Process Reengineering (Peppard and Fitzgerald
1997
). Business Process Reengineering emphasizes the radical and revolutionary change of organizations (Davenport and Short
1990
; Hammer
1990
). This change is often induced by IT innovations. Secondly, BPM is also based on the concept of Total Quality Management (Hung
2006
; Zairi and Sinclair
1995
), which is a rather incremental and evolutionary approach which aims at continuous improvement of business processes.