02.09.2019 | Original Research | Ausgabe 6/2020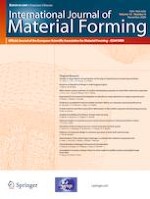 Research of adapted tool Design in Cold Forging of gears
Zeitschrift:
Autoren:

C. Kiener, M. Merklein
Wichtige Hinweise
Publisher's note
Springer Nature remains neutral with regard to jurisdictional claims in published maps and institutional affiliations.
Abstract
In the drive and transmission technology, gears rank among the most frequently used machine elements in modern automotive and mechanical engineering. Gears are conventionally produced by cutting processes, as high geometrical quality standards are hereby ensured. With regard to economic and ecological aspects, cold forging represents a promising alternative for producing highly-loadable gears. An extrusion process for manufacturing spur and helical gears is the so-called "Samanta"-process. Compared to standard extrusion processes, an additional ejector system is avoidable. Thus, in particular for helical gears, the gear quality is not affected by the ejection operation. Furthermore, the process chain during the component production cycle is shortened which leads to a more efficient production. The achievable gear accuracy as well as insufficient tool life are major challenges while establishing the "Samanta"-process in industry. To enable an industrial application, deeper process understanding along with knowledge about the influences on the process results is required. In this context, the aim of this research work is to numerically investigate influences of tool-sided approaches within cold forging of spur and helical gears by the "Samanta"-process. Based on experimental results, FE-Models for both gearing types will be validated. Using the numerical models, the impact of geometrical adaptions in the forming zone of the applied dies on the resulting component and process properties will be investigated. These findings are intended to derive an effects matrix and respective practical recommendations regarding a further improvement of the process results within cold forging of gears by the "Samanta" principle. Furthermore, the identified findings are principally transferable to conventionally forward extrusion process for producing gears. The results reveal that the influence of the adapted gear areas of the tools is purposefully usable. As a consequence, the resulting component and process properties can be positively influenced for both types of gearing. The verification of the numerical findings in experimental forming tests promises great potential for applying the "Samanta"-process in industry.