2019 | OriginalPaper | Buchkapitel
Research of Antimicrobial Resistance of Clinical Important Multi-resistent Gram Negative Bacterial Isolates in the Una-Sana Canton Area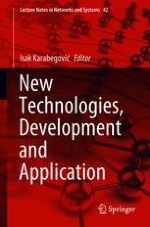 Erstes Kapitel lesen
Autoren: Asmir Aldžić, Huska Jukić, Kanita Dedić, Amela Dubinović-Rekić
Abstract
The term "microbial resistance" means the immunity/resistance of bacteria to antimicrobial drugs. The level of their resistance depends on the antimicrobial drug, the bacterium itself and the mechanism of resistance. Microbial resistance may be a specific feature of a single bacterial isolate, but also of certain bacterial species and genera. When one bacteria is resistant to three or more antibiotics (i.e., an antibiotic group), there is multiple resistance.
The enormous occurrence of resistance to both pathogenic and non-pathogenic bacteria occurred due to uncontrolled use of antibiotics. The occurrence of resistance of non-pathogenic bacteria disturbs the balance of existing microbial ecosystems. Since bacteria occupy different ecological niches, the process of gene transfer between members of the same or different species/genera, the number of resistant strains increases. Particularly important is the interspecific transfer of genes from pathogens to non-pathogenic bacteria and vice versa. The main role in this process is the micro-organisms commensals of human and animal, which are "vectors" for the transmission of genes of resistance between pathogenic and non-pathogenic bacteria. Monitoring the occurrence of resistance in non-pathogenic bacteria, primarily of human and animal commensals and food micro-organisms, is of great importance not only from the ecological but also from the aspect of the treatment of bacterial infections of humans and animals.
Isolates of bacteria from hospitalised patients at the departments of the Cantonal Hospital "Dr. Irfan Ljubijankić" in Bihac were used for the research and development of this work.
In the study period, the occurrence and resistance of Gram-negative multi-resistant types was monitored.
Of the total of 9 species of isolated and identified Gram-negative multiresistant bacteria, the most abundant isolates were:
Klebsiella pneumoniae
ESBL (with 16 isolates, or 23,18%),
Escherichia coli
ESBL,
Acinetobacter
spp. and
Pseudomonas aeruginosa
(with 11 isolates, or 15,94%),
Enterobacter
spp. ESBL (with 8, or 11,59% isolates),
Proteus mirabilis
(with 5 isolates, or 7,24%), then
Serratia
spp. (with 3 isolates, or 4,34%), and
Citrobacter
spp. ESBL and
Klebsiella oxytoca
(with 2 isolates, or 2,89%).