11.03.2019 | Ausgabe 4/2019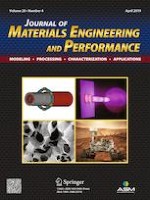 Research on the Corrosion Behavior of X70 Pipeline Steel Under Coupling Effect of AC + DC and Stress
Zeitschrift:
Autoren:

Xinhua Wang, Zuquan Wang, Yingchun Chen, Xuting Song, Cheng Xu
Wichtige Hinweise
Publisher's Note
Springer Nature remains neutral with regard to jurisdictional claims in published maps and institutional affiliations.
Abstract
The coupling effect of stray AC (alternating current) + DC (direct current) and tensile stress-induced X70 pipeline corrosion is complicated with its mechanism uncovered. In this work, the corrosion behavior of X70 pipeline steel under three different corrosion (including an individual AC corrosion, mixed AC + 150 MPa tensile stress corrosion, coupling effect of AC + a 30 A/m2 DC interference and 150 MPa tensile stress corrosion) conditions in Dagang soil simulated solution was investigated by COMSOL Multiphysics software simulation, electrochemical tests, scanning electron microscope and other techniques. The results indicated that with the increase in AC density, the open-circuit potential of the X70 steel samples was negatively shifted and corrosion rate increased in three different corrosion conditions. The corrosion rates of X70 steel samples under individual AC interference were almost unchanged when 150.9 MPa tensile stress was applied. When applying 30 A/m2 DC interference, the corrosion rate of X70 steel increases significantly. Therefore, the factors affecting corrosion performance of X70 pipeline steel were DC > AC > stress. Under individual AC interference, uniform corrosion occurred on the X70 steel at an AC current density of less than 30 A/m2, while the pitting corrosion occurred at an AC current density of greater than 100 A/m2. The application of tensile stress and DC had a certain inhibitory effect on pitting corrosion.