2015 | OriginalPaper | Buchkapitel
16. Resilience and Vulnerability Analysis for Restoration After Tsunamis and Floods: The Case of Dwellings and Industrial Plants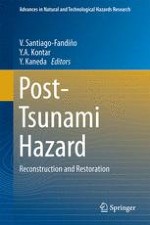 Erstes Kapitel lesen
Autoren: Ahmed Mebarki, Bruno Barroca
Abstract
The resilience approach represents a unified and integrated framework for the restoration process following disasters. Under given resilience parameters values, a resilient system is able to recover and be strengthened within a defined recovery period; otherwise, it is a non-resilient system. This chapter considers different structures and focuses on several parameters which govern resilience together with their mechanical vulnerability under various hazards. A new method of theoretically measuring resilience, its link with mechanical vulnerability, and its sensitivity analysis are investigated for dwellings and industrial plants under the effects of flood and tsunami hazards:
Non-designed (informal) masonry constructions under the effects of a flooding hazard: vulnerability is estimated after a rapid inspection by qualified engineers. Fragility curves are developed and the structural failure risk is calculated and mapped depending on the intensity of the hazard: water height and flow velocity, in a real case.

Structural and non-structural waste generated by flooding: relevant models are adopted and used for predicting expected quantities of waste. The territory may take several years to recover since generated waste may represent several times annual quantities produced under normal circumstances.

Coastal industrial plants under the effects of a tsunami hazard: structural failure in tanks results from buoyancy (uplift), overturning, sliding by shear effect, excessive bending, or buckling. Vulnerability and fragility curves are developed for various tanks of small and large sizes.