2014 | OriginalPaper | Buchkapitel
4. "Resilience for All" and "Collective Resilience": Are These Planning Objectives Consistent with One Another?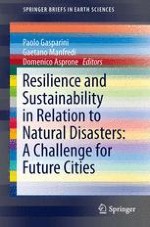 Erstes Kapitel lesen
Autor: Kalliopi Sapountzaki
Abstract
Several cases of risk management ventures, predominantly post-disaster recovery experiences, have evidenced the individualized and liberal nature of Resilience to Risks and Hazards. This has been addressed by several authors some of whom have arrived at provocative suggestions regarding the role of Resilience, such as that "Resilient/adaptive systems actively try to turn whatever happens to their advantage" (Waldrop
1992
), or that "Resilience refers to agents interacting locally according to their own principles or intentions in the absence of an overall blueprint of the system" (Stacey et al.
2000
) or even that "Cities' transformation after disasters come in response to conflicting or multiple resiliences" (Vale and Campanella
2005
). Above authors advocate the view that resilient to hazards can be any entity, agency or system from single individuals and businesses to Local Authority Organizations, National Governments or International Institutions. Each one of these actors should actor be faced with a single or multiple risks will opt solutions and actions matching own interests and own risk and vulnerability trade-offs. These self-centered solutions may exacerbate vulnerability and exposure of other actors, either collective entities or individual households. Besides, these solutions may trigger off new hazards currently or in the future. If this is the case indeed, i.e. individual comes in conflict with collective Resilience, one might wonder how could both objectives of "Urban Resilience" and "Resilience for all individual Citizens" be simultaneously accommodated. Also how these objectives impact one another. The present paper addresses these problems and suggests ways out of the impasse.