2016 | OriginalPaper | Buchkapitel
2. Resistivity and Experimental Techniques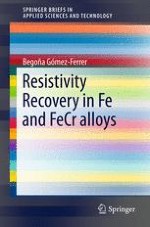 Erstes Kapitel lesen
Autor: Begoña Gómez-Ferrer
Abstract
As stated by Dulca in his doctoral thesis [
1
], understanding the electrical resistivity of concentrated metallic alloys is a discouraging task, because of the large number of contributions that may be involved. The electrical resistivity is a physical property that depends on the density of states at the Fermi level. Its value is composed of many contributions such as phonon interaction, concentrations of defects, atomic arrangements, or magnetic interactions . Understanding how such contributions influence the resistivity is the key to be able to design and perform experiments based on resistivity techniques. The presence of solutes is going to change the resistivity values of pure metals by means of the so-called short-range order (SRO) effects and also by its magnetic contribution to the magnetic spin populations of conducting electrons (explained by the two-current model). In this book, the research is focused on the Fe–Cr concentrated model alloys; thus, it is important to be able to evaluate how addition of Cr to Fe and the presence of defects is going to influence the residual resistivity values of the materials under study, in order to interpret the RR results and also to make appropriate comparisons with the more extensively studied pure and impure Fe. Sections
2.1
and
2.2
are devoted to this purpose. Some of the concepts described in Sect.
2.1
will be especially helpful for understanding the literature on modeling, RR, and quenching experiments. Additionally, in Sect.
2.3
, it is clearly explained the origin of evolution of defects as the sample temperature is increased and the processes that such simple defects can undergo as the annealing goes. The fundamentals of the RR experiments are described in Sect.
2.4
. And finally, based on the predicted SRO residual resistivity changes in the presence of migrating defects, there is a detailed explanation on the new RR method that has been developed and tested along the development of this work in Sect.
2.5
. The new method proposed allows making RR experiments erasing the SRO contribution.