29.07.2016 | Ausgabe 3/2016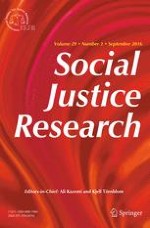 Respectful Inter-Group Interactions: A Method for Revising Group Attachment?
Zeitschrift:
Autoren:

Laura Davies, Diane Sivasubramaniam
Abstract
In the present study, we investigated whether respectful treatment shaped participants' perceptions of procedural justice during interactions with out-group authorities, and whether the effects of respectful treatment would extend to participants' attachment to their in-group and to the authority's social group. We hypothesised that the nature of the relationship between the out-group and a participant's social group (diametrically opposed vs. not opposed to one another) would moderate the effect of respect on participants' procedural justice judgements, attachment to the in-group, and attachment to the out-group. Participants (
n
= 186) read a short, fictitious news story describing an interaction between a fellow in-group member (the subordinate) and an authority. As predicted, respectful treatment increased perceptions of procedural justice and also led participants to feel more attached to the authority's social group. Contrary to expectation, participants' attachment to their in-group was not affected by treatment, but instead by authority group membership: interactions with an authority from a social group diametrically opposed to the participant's social group led participants to become significantly more attached to their in-group, regardless of the authority's behaviour (respectful vs. disrespectful) in the interaction. Results are discussed in terms of practical strategies for authorities to effectively manage interactions with out-group subordinates.