16.10.2017 | Original Paper | Ausgabe 2/2018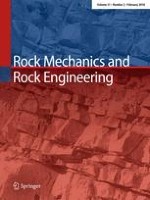 Response of a Circular Tunnel Through Rock to a Harmonic Rayleigh Wave
Zeitschrift:
Autoren:

Chien-Lun Kung, Tai-Tien Wang, Cheng-Hsun Chen, Tsan-Hwei Huang
Abstract
A factor that combines tunnel depth and incident wavelength has been numerically determined to dominate the seismic responses of a tunnel in rocks that are subjected to harmonic
P
- and
S
-waves. This study applies the dynamic finite element method to investigate the seismic response of shallow overburden tunnels. Seismically induced stress increments in the lining of a circular tunnel that is subjected to an incident harmonic
R
-wave are examined. The determination of
R
-wave considers the dominant frequency of acceleration history of the 1999 Chi–Chi earthquake measured near the site with damage to two case tunnels at specifically shallow depth. An analysis reveals that the normalized seismically induced axial, shear and flexural stress increments in the lining of a tunnel reach their respective peaks at the depth
h
/
λ
= 0.15, where the ground motion that is generated by an incident of
R
-wave has its maximum. The tunnel radius has a stronger effect on seismically induced stress increments than does tunnel depth. A greater tunnel radius yields higher normalized seismically induced axial stress increments and lower normalized seismically induced shear and flexural stress increments. The inertia of the thin overburden layer above the tunnel impedes the propagation of the wave and affects the motion of the ground around the tunnel. With an extremely shallow overburden, such an effect can change the envelope of the normalized seismically induced stress increments from one with a symmetric four-petal pattern into one with a non-symmetric three-petal pattern. The simulated results may partially elucidate the spatial distributions of cracks that were observed in the lining of the case tunnels.