01.09.2016 | Original Article | Ausgabe 18/2016 Open Access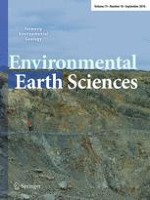 Response of microorganisms and enzymes to soil contamination with a mixture of pethoxamid terbuthylazine
Zeitschrift:
Autoren:

Jadwiga Wyszkowska, Monika Tomkiel, Małgorzata Baćmaga, Agata Borowik, Jan Kucharski
Introduction
Materials and methods
Results and discussion
Summary
Herbicides may be toxic not only to the target organisms, but also to non-targeted organisms. When entering soil ecosystems, herbicides become a threat to all organisms. These studies describe the effect of a mixture of two active substances (pethoxamid and terbuthylazine) contained in the herbicide Successor T 550 SE on soil microorganisms, soil enzymes and plants. Excessive amounts of this herbicide disturb the biological equilibrium of soil, by disturbing the soil microbiological and biochemical properties. They shift a succession of organotrophic bacteria from the r-strategy to the K-strategy. They also have a negative effect on bacteria of the genus
Azotobacter
, oligotrophic sporulating bacteria, actinomycetes and fungi and a positive effect on oligotrophic bacteria. A mixture of pethoxamid and terbuthylazine in doses higher than 0.73 mg kg
−1
of soil resulted in a strong inhibition of dehydrogenases, catalases, ureases, acid phosphatase, alkaline phosphatase, arylsulphatase and β-glucosidase and significantly inhibited the growth and development of maize.
Acknowledgments
These studies were conducted as a part of a research project funded by the National Science Centre, No. N305 386138, and the publication was prepared as a part of statutory activities funded by the Ministry of Science and Higher Education.
Open Access
This article is distributed under the terms of the Creative Commons Attribution 4.0 International License (
http://​creativecommons.​org/​licenses/​by/​4.​0/​
), which permits unrestricted use, distribution, and reproduction in any medium, provided you give appropriate credit to the original author(s) and the source, provide a link to the Creative Commons license, and indicate if changes were made.