01.02.2013 | Ausgabe 4/2013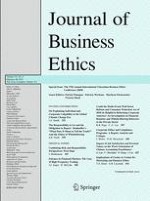 Responsibility and Informal CSR in Formal Cameroonian SMEs
Zeitschrift:
Autoren:

Geert Demuijnck, Hubert Ngnodjom
Abstract
In this article, we explore the implicit conceptions of business ethics and social responsibility of owners−managers of small and medium enterprises (SME) in Cameroon. While using a hermeneutical approach, our main objective is to clarify how Sub-Saharan African business people themselves understand and define corporate responsibility in their particular economic and political environment. Our aim is
not
to deliver an empirical study of
business practices and management behavior
in SMEs. We wish to discuss
which responsibilities they themselves judge to be relevant
and which can legitimately be attributed to them by third parties. Secondly, we relate our findings to other empirical work on SMEs, in Africa and elsewhere. It is shown that there are similarities with the way in which SMEs in Europe interpret their responsibility, but also striking differences. Further, we relate our findings to some theoretical controversies around corporate social responsibility (CSR) in SMEs, to questions about evaluation tools for CSR in the SME context, and to the role of CSR with respect to poverty alleviation in developing countries.