21.11.2019 | INTERNATIONAL COLLABORATION | Ausgabe 7/2019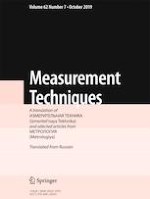 Results of the Coomet 646/Ru/14 Pilot Comparison of National Standards of the Unit of Sound Oscillation Velocity of Water Particles
Zeitschrift:
Autoren:

A. E. Isaev, A. N. Matveev, G. S. Nekrich, Chen Yi, Fei Teng, Jia Guanghui
Wichtige Hinweise
Translated from Izmeritel'naya Tekhnika, No. 7, pp. 67–72, July, 2019.
We present the results of comparison of national standards of the units of sound oscillation velocity of water particles within the range from 5 Hz to 10 kHz performed by the Hangzhou Applied Acoustics Research Institute (Pilot Laboratory) and the All-Russia Research Institute of Physicotechnical and Radio Measurements (VNIIFTRI) (COOMET 646/RU/14 Pilot Comparisons). The calibration capabilities of the participants were evaluated according to the results of measurements of the sensitivity of oscillation-velocity receivers: KGP-10, VHS56, and VHS90. At frequencies varying from 5 Hz to 500 Hz, inclusively, the calibrations were performed in a chamber as a result of comparison with a reference hydrophone performed by the method of oscillating water column. At frequencies higher than 500 Hz, we used the measuring procedure of the reciprocity method in the free field of traveling spherical sound waves. No significant inconsistencies in the calibration results were discovered at any frequency used for comparisons. The maximal discrepancies between the values of sensitivity obtained by the participants did not exceed 1.2 dB.