2015 | OriginalPaper | Buchkapitel
Retail Expansion into International Markets: The Case of United States Retail Chains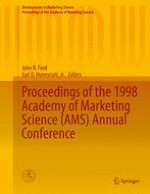 Erstes Kapitel lesen
Autor: Irena Vida
Retailers in mature retail markets are increasingly turning their attention to international expansion as a means of future growth. While the pace of retail store internationalization has been somewhat slower in the U.S. than in other parts of Westem world, industry reports provide evidence of an increased interest of U.S. retail chains in their store chain presence outside domestic borders (Deloitte & Touche, 1998).
The purpose of this study is to investigate current retail store expansion activities into international markets, and to examine two key dimensions of international retail strategies: entry modality and market selection. Research questions are framed within the context of theories focusing on determinants and the nature of international business involvement, which have been applied to the specifics of the retailing industry. More specifically, internationalization process perspective (Cavusgil1984; Johanson and Vahle 1990; Perlmutter 1969) and the eclectic paradigm (Dunning 1988) served as a basis for this investigation.
Data is currently being generated via a mail survey from retail chains' executives who assume the role of key informants. Two respondents, i.e., executives with strategic responsibilities for retail chains' expansion, are identified from each of the top ranking U.S. retail chains based on various criteria. Mail survey data collection procedures follow the guidelines set forth by Mangione (1995) and involves four consecutive mailings. Once the data collection phase is completed, the data will be analyzed via tobit/probit analyses, logistic regression, principal components factor analysis and descriptive statistics to examine retail chains' international retailing activities, characteristics of retail chains and their market entry strategies.
This study addresses many practical and conceptual deficiencies that currently exist in the area of retail internationalization. The outcome should prove useful for retail practice and new knowledge development of an industry, which faces major competitive challenges in the forthcoming millenium. As noted by retail analysts, these challenges are primarily related to the changes in the use of interactive technology and increasing globalization of the industry (Schultz 1997).