01.08.2014 | Ausgabe 4/2014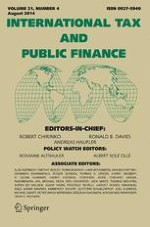 Rethinking the Pfähler–Lambert decomposition to analyse real-world personal income taxes
Zeitschrift:
Autoren:

Jorge Onrubia, Fidel Picos-Sánchez, María del Carmen Rodado
Abstract
We provide a generalization and adaptation of the decomposition methodology by Pfähler (Bull Econ Res 42:121–129,
1990
) and Lambert (The distribution and redistribution of income, 1st edn,
1989
, The distribution and redistribution of income, 3rd edn,
2001
), designed to assess the redistributive effect of personal income taxation. In particular, we generalize the methodology to several deductions, allowances, schedules or tax credits, making it suitable for real-world complex tax structures, especially dual income taxes. Additionally, we avoid the problem of sequentiality on the measurement of partial redistributive effects and also take into account the re-ranking effects of tax treatments not related to income. Finally we illustrate the utility of the methodology by carrying out an empirical analysis for the 2007 Spanish Personal Income Tax, which meant a shift from a quasi-comprehensive to a semi-dual income tax.