2019 | OriginalPaper | Buchkapitel
Reuse of Wastewater to Conserve the Natural Water Resources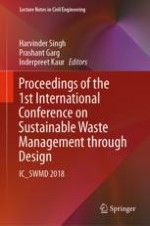 Erstes Kapitel lesen
Autoren: Sagar Mukundrao Gawande, Dilip D. Sarode
Abstract
Conserving existing sources of water is important, this can be achieved by recycling and reusing the treated waste water for various applications based on its suitability. The available quantity of the water sources depleted in last several years and the depletion is going on at the rapid rate. On the other hand due to rapid industrialization and growth of population globally, the quality of surface and subsurface water is contaminated beyond its acceptable limits. The direct disposal of untreated wastewater into the nearby water bodies and improper wastewater treatment facilities leads in spreading in water borne diseases. The contamination of natural water bodies can be avoided if the efficient and economical facilities are available to treat the community wastewater. Most of the Municipal councils and gram panchayat do not treat the waste water due to cost involved in doing so. Hence economical and eco-friendly method of treating the waste water is the need for sustainable development. This will not only reduce the ultimate burden on the overall nation's medical expenditures, but also conserve water resource.
The Decentralized Wastewater Treatment System (DWATS) is the suitable option towards the treatment of wastewater treatment at the user point or location communally as well as individually. This is non mechanized and natural wastewater treatment system which is not only economical but also runs and treats the wastewater naturally.
The motivational objective of this study is to develop the economical and efficient natural wastewater treatment system for rural areas where the improper sanitation practices are in existence. To demonstrate a model of lake rejuvenation with economical waste water treatment system for suitable value added end use and avoid contamination of natural water bodies. Educate the rural community about good sanitation practices to avoid contamination of lake and various wastewater treatment systems. This will be helpful in understanding about reuse of wastewater and safeguarding the natural water resources in rural India. The overall approach should be to avoid contamination of natural resource of fresh water and reuse of treated waste water for value added applications after suitable treatment.
Author is involved in installation of DWAT system under DST (Department of Science & Technology, Govt. of India) project in the Ausa town of Marathwada region of Maharashtra.