17.05.2018 | Paper | Ausgabe 5/2018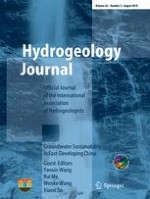 Review: Characterization, evolution, and environmental issues of karst water systems in Northern China
Zeitschrift:
Autoren:

Yongping Liang, Xubo Gao, Chunhong Zhao, Chunlei Tang, Haoyong Shen, Zhiheng Wang, Yanxin Wang
Wichtige Hinweise
Published in the special issue "Groundwater sustainability in fast-developing China"
Abstract
In Northern China, karst systems in widely distributed carbonate rocks are one of the most important water supplies for local inhabitants. Constrained by the specific geological and geomorphological conditions, most karst water in this region is discharged as individual or groups of springs. This paper summarizes the characteristics, chemistry, and environmental quality of these karst systems in Northern China. Five structural models of karst water systems were identified based on the relationships between the karst geological strata and karst groundwater flow fields. These specific structural models may closely relate to the attendant environmental geological issues and consistent risks from pollution. Over the past 40 years, the karst water systems in Northern China have suffered from various environmental problems, including deteriorating water quality, the drying up of springs, a continuous decline in the level of karst water, and so on. Based on the field investigation and previous data, a preliminary summary is provided of the environmental problems related to the development and evolutionary trends of karst water in this region. The results highlight the significant challenges associated with karst water, and it is essential that all segments of society be made aware of the situation in order to demand change. In addition, the study provides a scientific basis for the management, protection, and sustainable utilization of karst water resources.