01.02.2011 | Paper | Ausgabe 1/2011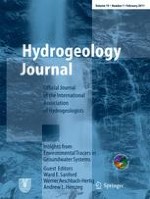 Review: Geothermal heat as a tracer of large-scale groundwater flow and as a means to determine permeability fields
Zeitschrift:
Autor:

Martin O. Saar
Abstract
A review of coupled groundwater and heat transfer theory is followed by an introduction to geothermal measurement techniques. Thereafter, temperature-depth profiles (geotherms) and heat discharge at springs to infer hydraulic parameters and processes are discussed. Several studies included in this review state that minimum permeabilities of approximately 5 × 10
−17
 < 
k
min
<10
−15
m
2
are required to observe advective heat transfer and resultant geotherm perturbations. Permeabilities below
k
min
tend to cause heat-conduction-dominated systems, precluding inversion of temperature fields for groundwater flow patterns and constraint of permeabilities other than being <
k
min
. Values of
k
min
depend on the flow-domain aspect-ratio, faults and other heterogeneities, anisotropy of hydraulic and thermal parameters, heat-flow rates, and the water-table shape. However, the
k
min
range is narrow and located toward the lower third of geologic materials, which exhibit permeabilities of 10
−21
 < 
k
 < 10
−7
m
2
. Therefore, a wide range of permeabilities can be investigated by analyzing subsurface temperatures or heat discharge at springs. Furthermore, temperature is easy and economical to measure and because thermal material properties vary far less than hydraulic properties, temperature measurements tend to provide better-constrained groundwater flow and permeability estimates. Aside from hydrogeologic insights, constraint of advective/conductive heat transfer can also provide information on magmatic intrusions, metamorphism, ore deposits, climate variability, and geothermal energy.