02.05.2018 | Ausgabe 2/2018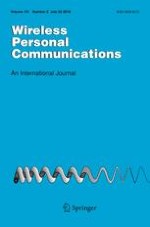 Review of Wireless Personal Communications Radio Propagation Models in High Altitude Mountainous Areas at 2.6 GHz
Zeitschrift:
Autoren:

Huafu Li, Xianguo He, Wenxue He
Wichtige Hinweise
Publisher's Note
Springer Nature remains neutral with regard to jurisdictional claims in published maps and institutional affiliations.
Abstract
This paper presents five commonly used radio propagation models (RPMs) which are suitable for the prediction of path loss in macrocell environments of LTE wireless communication systems. These RPMs' application in high altitude mountainous areas networks (HAMANETs) environment requires further validation and studies. Through using the measured path loss in the HAMANETs at 2.6 GHz to calculate the predicted value of the five RPMs and the measured value's mean error (ME), root mean square error, and error standard deviation (ESTD), we verified the predicted value of the SPM model that is closer to the actual measurement. On this basis, the empirical propagation model in HAMANETs environment is corrected. When correcting, a method to calculate base station's effective antenna height and propagation distance is provided by using the altitude above sea level data. This method can reduce the error that the mountainous areas are simplified to the flat-terrain in the existed propagation models. A linear least square method is used to calculate the optimal propagation model. Finally, the ME is the smallest, and the ESTD is less than 8 dB, which indicate that the corrected propagation model is more suitable for the actual environmental path loss's prediction. The results show that the path loss factor of the test area is about 65 dB, including the influence of the high altitude, mountains, vegetation, and air humidity in HAMANETs environment. The study results can provide useful advice to the evaluation and verification of personal wireless communications in the HAMANETs. Furthermore, using the correction method proposed in this paper can correct propagation models suitable for the different propagation environments to improve the accuracy and efficiency of wireless network optimization.