2015 | OriginalPaper | Buchkapitel
6. Revisiting Gujarat: Is There a Capability Trap?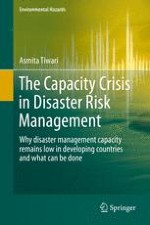 Erstes Kapitel lesen
Autor: Asmita Tiwari
Abstract
This chapter applies the Perception Driven Joint Learning Approach (PeDJoLA) model of capacity development to understand Gujarat's post-2011 earthquake capacity building process. The chapter focuses on understanding capacity building efforts from two levels: top-down level, within different levels of governments, and bottom-up level, within different community groups. Sustainability of capacity development efforts is also discussed along with challenges that inhibit developing effective capacity. The chapter presents findings from field research carried out in 2012, through interviews, surveys, and review of documents. A methodology to apply the conceptual model through field research is discussed first. The second section describes the perception of research participants regarding capacity deficit and disaster risk. The third section describes different forms of capacity development efforts undertaken by different stakeholders, including the government and the community. The fourth section looks into whether capacity development under the Gujarat Emergency Earthquake Reconstruction Project (GEERP) has taken place or not, focusing on changes in the local government and the community. The fifth section explores how sustainable the current capacity development efforts are, in terms of learning and empowerment. The final section, which relies heavily on formal and informal interviews, highlights the potential factors responsible for inhibiting capacity development in the three study towns.