01.06.2015 | Ausgabe 3/2015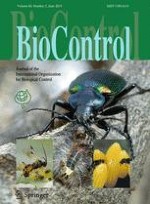 Rhamnolipid produced by
Pseudomonas aeruginosa

SS14 causes complete suppression of wilt by

Fusarium oxysporum

f. sp

. pisi

in

Pisum sativum
Zeitschrift:
Autoren:

Siddhartha Narayan Borah, Debahuti Goswami, Jiumoni Lahkar, Hridip Kumar Sarma, Mojibur Rahman Khan, Suresh Deka
Wichtige Hinweise
Handling Editor: Jesus Mercado Blanco
Abstract
Fusarium oxysporum
f. sp.
pisi
(van Hall) Snyder & Hansen is an important pathogen of pea that causes wilt. The present study was carried out to evaluate the efficacy of rhamnolipid biosurfactant produced by newly isolated
Pseudomonas aeruginosa
strain SS14 as an antifungal agent against
F. oxysporum
f. sp.
pisi
in
Pisum sativum
L. The bacterial strain
P. aeruginosa
SS14 was isolated from crude oil contaminated soil and identified by 16S rDNA sequencing. The biosurfactant was characterized as rhamnolipid by FTIR and LC–MS analyses. Treatment of pea seeds and seedlings under natural conditions of light, temperature and humidity with the rhamnolipid at a concentration of 25 µg ml
−1
prior to sowing or planting in pathogen laden soil resulted in complete suppression of characteristic wilt symptoms. The results demonstrate the possibility to develop a sustainable and eco-friendly control measure against
F. oxysporum
f. sp.
pisi
which is currently not available.