26.03.2018 | Original Contribution | Ausgabe 5/2018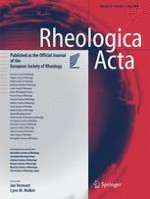 Rheological behavior in the transient state of PP/EPDM blends with carbon nanofillers
Zeitschrift:
Autoren:

Roberto Zitzumbo-Guzman, Felipe Avalos-Belmontes, Luis F. Ramos-De Valle, Jose C. Ortiz-Cisneros, Sergio Alonso-Romero, Anayansi Estrada-Monje
Wichtige Hinweise
Publisher's Note
Springer Nature remains neutral with regard to jurisdictional claims in published maps and institutional affiliations.
Abstract
The rheological properties in the transient state of PP/EPDM blends with carbon nanofillers had been studied. The carbon nanofillers were incorporated into molten EPDM in an internal mixer at 150 °C. The rheological variables were determined in rotational rheometry at constant temperature of 200 °C. The results suggest that the magnitude of the difference of the normal stress differences (N1-N2) of PP/EPDM blends through the time, with and without nanofillers, and has a transition cycle from positive to negative values and vice versa, at constant and at zero shear rate in previously sheared samples. At constant shear rate, the transition cycle is random; meanwhile, it is constant at zero shear rate. This behavior is attributed to the polymeric chain movement, considering that the sheared samples have two molecular reorder processes: an immediate mechanism and another one slower. The fastest reorder process is attributed to the polymeric chains entanglement forming non-stable and stressed molecular structures. In the other hand, the second process is referred to the molecular mobility that takes place inside the stressed entangled polymer, in such a way that its structure tends to molecular stability as the rest time increases.