11.08.2020 | ORIGINAL ARTICLE | Ausgabe 6/2020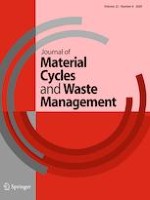 Rheological, mechanical and morphological properties of hybrid hazelnut (
Corylus avellana L.

)/walnut (

Juglans regia L.

) shell flour-filled acrylonitrile butadiene styrene composite
Zeitschrift:
Autor:

Emel Kuram
Wichtige Hinweise
Electronic supplementary material
Publisher's Note
Springer Nature remains neutral with regard to jurisdictional claims in published maps and institutional affiliations.
Abstract
Effect of natural filler amount and kind on the morphological, rheological and mechanical properties of acrylonitrile–butadiene–styrene (ABS) terpolymer was studied in current research. The powdered hazelnut and walnut shells were employed as natural filler with ABS to develop hybrid polymer composites. With single natural filler, it was found that the walnut shell flour was usable for enhancing strengths (tensile, flexural and impact) and modulus (tensile and flexural) in comparison to hazelnut. The highest strengths (tensile, impact and flexural) and flexural modulus were achieved with the amount of 5 wt% hazelnut and 15 wt% walnut shell flour among all hybrid composites. Tensile strain, tensile strength, impact strength, flexural strain and flexural strength of ABS decreased with the mixing of 20 wt% hazelnut and with the mixing of 20 wt% walnut shell flour. The addition of hazelnut shell flour filler alone caused a decrement in melt flow index (MFI) value while the incorporation of walnut shell flour filler alone resulted in an increase in MFI value as compared to pure ABS. It was concluded that hazelnut and/or walnut shell flour-filled polymer composites were usable in applications where lower cost was desirable and some decrements in the mechanical properties were acceptable.