2005 | OriginalPaper | Buchkapitel
RISC/DSP Dual Core Wireless SoC Processor Focused on Multimedia Applications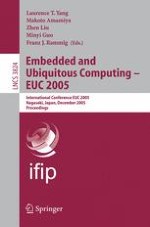 Erstes Kapitel lesen
Autoren: Hyo-Joong Suh, Jeongmin Kim
Verlag: Springer Berlin Heidelberg
Enthalten in: Professional Book Archive
The key technology of the mobile multimedia application is System-On-Chip processor that integrates the major function unit with low power consumption using a small battery. The wireless communication is practical technology, which makes comfortable communications between devices, such as IEEE 802.11a/b/g and Bluetooth. By the modern streaming technology with compression, like mpeg, the wireless communication triggers high quality media service without wires.
The wireless communication spend a quite large portion of energy of mobile device if data flows continuously, hence a delicate energy control may needed to fulfill a saving of the limited energy. Due to these issues, integrating the wireless function units into the high performance embedded processor supports a seamless control of power consumption of wireless part, and the communication data flows are sealed in the SoC chip, which reduces inter-chip communiaction energy between a main processor and a wireless media access controller.
We focused the high performance wireless multimedia applications are suffered by the energy consumption, so we alleviated the power issue by integrating of IEEE 802.11a/b/g media access controller, modem, ADC/DAC, high performance DSP, and RISC core in a silicon.
We present a wireless capable SoC processor, GDM5104, that integrated the multiple wireless media access controller as well as CCK/ OFDM/ GFSK modem and ADC/DAC also. Furthermore, the processor integrates RISC and DSP independent cores with appropriate caches, and rich peripherals that sufficient to implement mobile multimedia applications, hence the processor exhibits wireless connectivity with low power consumption. The processor is fabricated in a 0.18um standard CMOS technology, and operates at 133MHz RISC, and 100MHz DSP, which provides full capability of wireless multimedia processing.