2011 | OriginalPaper | Buchkapitel
Risk Assessment, Risk Management and Remediation for the Geological Disposal of Radioactive Waste and Storage of Carbon Dioxide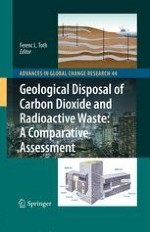 Erstes Kapitel lesen
Autor: Philip Maul
Verlag: Springer Netherlands
Abstract
Risk assessment, risk management and remediation in the fields of geological disposal of radioactive waste (RW) and storage of carbon dioxide (CO
2
) are discussed and compared. In both fields detailed site characterization is a fundamental requirement and it is necessary to consider the evolution of the system over long timescales so that natural analogues for key processes can be valuable. Some of the most important differences are:
In RW disposal, performance assessment methods have been developed over a period of more than 2 decades, whilst for CO2 methods for modelling the system as a whole are still at an early stage of development.

Similarly, mature regulatory regimes are in place in most countries with deep disposal programmes for RW, but this is not the case for the geological storage of CO2.

The possibility of material returning to the surface in the first few decades after operations cease is much more likely for CO2, so that monitoring will be important. If surface leakage of CO2 is detected during this period it should be possible to sink borehole(s) to extract some of the injected CO2.

For RW disposal systems, engineered barriers will inevitably degrade with time, whilst for CO2 some of the important natural barriers may actually become more effective with time. This affects the way that risk assessments are undertaken and uncertainties managed.