23.03.2016 | Original Paper | Ausgabe 8/2016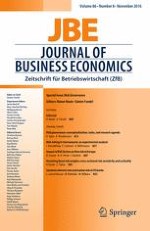 Risk-taking in tournaments: an experimental analysis
Zeitschrift:
Autoren:

Ivo Schedlinsky, Friedrich Sommer, Arnt Wöhrmann
Wichtige Hinweise
Data are available from the corresponding author upon request.
We thank Eddy Cardinaels, Jeremy Douthit, Robin Dresenkamp, Thorsten Knauer, Manuel Kraft, Thomas Langer, Victor Maas, Christian Schnieder, Anja Schwering, Alexandra Van den Abbeele, and participants at the University of Münster Experiments and Experimental Research in Management Accounting workshops and the European Network for Experimental Accounting Research (ENEAR) Summer School, as well as participants of the 3rd Annual Conference on Risk Governance hosted by the University of Siegen and participants of the AAA 2016 Management Accounting Section Midyear Meeting for their helpful comments and suggestions. We also thank the editor, Rainer Baule, and two anonymous reviewers for their helpful comments, which have greatly improved the paper. We also appreciate the financial support provided by Dr. Werner Jackstädt-Stiftung.
Abstract
This paper examines risk-taking in tournaments experimentally. More precisely, we investigate two potential drivers of risk-taking in tournaments. The first driver is the proportion of tournament winners, which is a design parameter and therefore endogenous for firms. We find that a lower proportion of winners encourages employees to take more risk. The second potential driver is exogenous. We investigate the reliance on simplified decision rules as a behavioral bias of employees working under tournament incentives. Tournaments require employees to use strategic optimization, which means considering the behavior of other contestants. Though much of the analytical literature builds on this assumption, we find that employees instead rely on simplified decision rules. If a particular strategy appears more attractive based on such simplified decision rules, employees are more likely to choose this strategy even if it implies taking more risk. We also find significant interaction between the proportion of winners and the use of simplified decision rules. Our results confirm that employees reduce risk-taking over time in a setting where each unit of risk is excessive. However, this appears to result from trial-and-error learning rather than understanding the strategic character of tournaments, because, though reduced, the level of risk-taking remains too high.