2012 | OriginalPaper | Buchkapitel
24. Risks Management Technologies as Business Object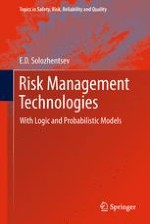 Erstes Kapitel lesen
Autor: E. D. Solozhentsev
Verlag: Springer Netherlands
Abstract
Risks management technologies in economic and engineering systems have been conducted for more than 15 years. This research field is new, extensive and constantly developing.
Why would you buy this book?
1.
The book presents the innovative technology with LP-models for evaluation, analysis, management and prediction of risk and efficiency in engineering and economics.
2.
The book describes components, models and procedures of information, intellectual, innovation technologies for risk management in a wide range of real problems.
3.
The book describes the classes of risk models: LP-modeling, LP-classification, LP-efficiency and LP-forecasting and the procedures for classes: construction of LP-models, LP-identification of risk LP-models according to statistical data, LP-analysis of risk, LP-management of risk, and LP-prediction of risk.
4.
The book gives many examples of effective applications of Risk management technologies: banking risks, analysis and risk management on economic indexes companies, the risk of explosion ammunition depot, the risk of providing electrical steel plant, etc.
5.
The book describes the failure risk LP-model of solution of difficult economic and engineering problems and projects, elements of which are subjects (government, business, banks, academics, public opinion) and objects (tasks in real problem).
6.
The book describes the specific Software for computationally complex problems in Risk management technologies.
7.
The book contents the training course Risk Management Technologies for university students, which has 40 lectures and 16 labs on PC.
8.
The book proposes the technique of construction of LP-models for estimation of the quality and validity of the functioning systems and processes in ISO 9000-2008.
9.
The book proposes LP-models for operational risk of banks and assess reserve by requirements of BASEL-2.