2012 | OriginalPaper | Buchkapitel
17. Risks Management Technologies of Counteracting Bribery and Corruption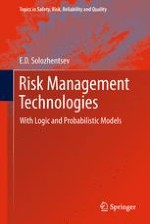 Erstes Kapitel lesen
Autor: E. D. Solozhentsev
Verlag: Springer Netherlands
Jetzt einloggen
Abstract
We describe Risks management technologies for counteracting bribery and corruption: the LP-bribery risk model in an institution; the LP-model of the officials' bribery and fraud risk; the LP-risk model of bribes during service; analysis of bribery risk in the kindergarten.
We consider the general scheme for solving problem of bribes and corruption (Sect.
1.​2
). In this problem the subjects (the state, business, banks, scholars, public opinion) and objects—the tasks, making up the core of the problem, are logically connected as events. It has been shown that without scientists, I
3
-technologies and public opinion it is impossible to solve this difficult economic problem in Russia.
LP-risk models of objects-tasks of counteracting bribery and corruption refer to classes LP-classification and LP-efficiency, which employ statistical data bases. We carry out the following LP-risk models of bribery and corruption: institutions with regard to their operation parameters, officials with regard to their behavior parameters, institutions and officials with regard to service parameters. These models are meant for: economic crime departments of cities, services of internal control and safety of banks and companies, development of rules and laws for service parameters.