2020 | OriginalPaper | Buchkapitel
Risks of Radiation Exposure During Abdominopelvic CT Procedures at Mohamed VI University Hospital of Oujda, Morocco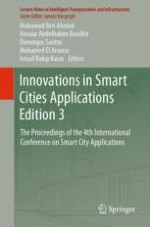 Erstes Kapitel lesen
Autoren: Mohammed Aabid, Slimane Semghouli, Oum Keltoum Hakam, Abdelmajid Choukri
Abstract
Background:
Physicians use diver radiology technologies on a daily basis to diagnose stage and treat cancers with the goal of saving thousands of lives. The use of CT scans in medical diagnosis exposes patients to radiation doses higher than other radiological procedures. It is estimated that CT scans represent about 20% of radiological procedures and contribute about 80% to medical radiological exposure doses. Purpose: The purpose of this study is to estimate the doses delivered during abdominopelvic CT procedures in order to evaluate the biological effects in patients at the Mohamed VI University Health Centre in Oujda, Morocco.
Materials and methods:
A GENERAL ELECTRIC (GE) Optima CT 540 scanner is used for all CT examinations. A study of 30 patients was carried out in the emergency radiology department. Data were collected from abdominopelvic examinations. For each scan, CT acquisition parameters, including the number of series, contrast medium usage, kV tube, tube current and rotation time, slice thickness, CT dose index (CTDIvol) displayed and Dose Length (DLP) product. The effective dose and the biological effects were estimated using the conversion factors of the International Commission on Radiological Protection (ICRP).
Results:
The tube voltage (kV), tube current and rotation time were 120 (kV), 275 (mA) and 1.75 (s) respectively. The average CT dose index (CTDIvol) displayed was (8.37 ± 2.52) mGy. The average dose length (DLP) product was (352.41 ± 153.53) mGy.cm, with a third quartile of 416.5 mGy.cm. The average effective dose received by the patient during an abdominopelvic CT was (5.36 ± 2.33) mSv, with a third quartile of 6.33 mSv. The risk of cancer per abdominopelvic CT procedure is in the order of 348 per one million procedures while the hereditary risk per procedure is about 13 per one million procedures. The effective dose and risk factors for abdominopelvic CT are well below several values recorded on an international scale.
Conclusion:
Cancer and hereditary risks are increased when performing multiple scan acquisitions. The study found that the doses received during abdominopelvic CT procedures at Mohammed VI University Hospital in Oujda were within an acceptable range. However, staff must optimize the radiation dose during abdominopelvic procedures, and a CT dose optimization protocol must be implemented in the Moroccan hospitals.