27.08.2013 | THE ECOINVENT DATABASE V3 | Ausgabe 9/2016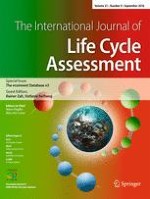 Road transport: new life cycle inventories for fossil-fuelled passenger cars and non-exhaust emissions in ecoinvent v3
Zeitschrift:
Autor:

Andrew Simons
Wichtige Hinweise
Responsible editor: Rainer Zah
Abstract
Purpose
The paper presents new and updated datasets for the operation of fossil-fuelled passenger cars. These are intended to be used either as background processes or in the comparative assessment of transport options. Central goals were to achieve a high level of consistency, transparency and flexibility for a representative range of current vehicle sizes, emission standards and fuel types, and to make a clear definition between exhaust and non-exhaust emissions. The latter is an important contribution to studies focusing on hybrid and electric vehicles.
Methods
The datasets are the direct development of those available in ecoinvent v2 and are largely based on updated versions of the same sources. The datasets address petrol, diesel and natural gas vehicle fuels. The number of datasets was increased to cover small, medium and large vehicles. Other data sources were used in order to fill data gaps and to balance inconsistencies, particularly for the natural gas vehicles. Parameterisation was incorporated via the ecoeditor tool. This allows the datasets to be adapted for use as foreground processes and also increases transparency. An important method used was to observe the trends in fuel consumption and emissions across all sizes and emission standards simultaneously so that consistency would be achieved across the whole range of vehicles. Non-exhaust emissions were made dependent on vehicle weight and thereby independent of vehicle type.
Results and discussion
Some significant changes in individual emission factors between the v2 and v3 datasets was shown. This can be explained by a combination of corrections, updates based on more recent versions of the data sources, and attempts to make the datasets consistent to each other. This has also meant that the non-exhaust emissions are readily definable in terms of brake, tyre and road wear as a factor of vehicle weight, with the intention that this data can be applied to passenger vehicles of all technologies.
Conclusions
Fuel consumption, emission factors and infrastructure demand have been improved, extended and updated for petrol, diesel and natural gas vehicles adhering to the Euro 3, 4 and 5 emissions standards. Using the ecoeditor tool, significant parameterisation was included which has made the datasets far more flexible, consistent and transparent. The clear definition of non-exhaust emissions means that these can easily be applied to studies on hybrid and electric vehicles.