2014 | OriginalPaper | Buchkapitel
3. Robot Grasping Simulation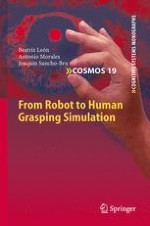 Erstes Kapitel lesen
Autoren: Beatriz León, Antonio Morales, Joaquin Sancho-Bru
Abstract
Simulation is essential for different robotic research fields such as mobile robotics, motion planning and grasp planning. For grasping in particular, there are no software simulation packages, which may provide a holistic environment to deal with the variety of aspects associated with this problem. These aspects include development and testing of new algorithms, modelling of the environments and robots, including the modelling of actuators, sensors and contacts. To fill this gap, the
OpenGRASP
simulation toolkit for grasping and dexterous manipulation has been developed.
OpenGRASP
is a new simulation toolkit, that addresses all above-mentioned aspects, and that has been developed to provide extensibility, interoperability and public availability. It is based on a modular architecture, that supports the creation and addition of new functionality and the integration of existing and widely-used technologies and standards. In this chapter, the different components of
OpenGRASP
are presented. The core of the toolkit is an improved version of OpenRAVE, which has been enhanced with a Robot Editor and the adoption of the COLLADA file format and several plugins to enable standardization and flexibility. Tactile sensor simulation is studied in detail, proposing a new tactile sensor model which utilizes collision detection and response methods using soft contacts as well as a full friction description.