07.11.2016 | Original Paper | Ausgabe 5/2017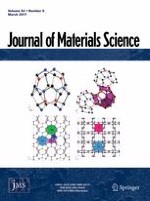 Robust fabrication of fluorine-free superhydrophobic steel mesh for efficient oil/water separation
Zeitschrift:
Autoren:

Qing Wang, Mingguang Yu, Guangxue Chen, Qifeng Chen, Junfei Tian
Wichtige Hinweise
Electronic supplementary material
The online version of this article (doi:
10.​1007/​s10853-016-0548-6
) contains supplementary material, which is available to authorized users.
Abstract
A facile and environmentally friendly method was reported for the fabrication of superhydrophobic steel mesh by depositing with dual-scale Polystyrene@Silica (PS@SiO2) particles coated with hexadecyltrimethoxysilane (HDTMS), which provided 3D multi-scale hierarchical rough surface structure with low surface energy to perform the superhydrophobic effect. PS particles of ~1 μm and ~200 nm were first synthesized via dispersion polymerization and emulsion polymerization, respectively. The obtained PS particles were then used as template for the silification using tetraethyl orthosilicate as the precursor. After treated with HDTMS, the PS@SiO2 particles were deposited on steel mesh forming dual-sized hierarchical structures. The as-prepared film exhibited excellent water repellence with a water contact angle of 161.6° ± 1.1° and water contact angle hysteresis of 3.4°. It also showed efficient and rapid oil/water separation ability and could be repeatedly used for at least 5 times. This facile synthesis strategy for fabricating multifunctional steel mesh provides potential applications in large-scale oil–water separation.