24.06.2019 | Ausgabe 14/2019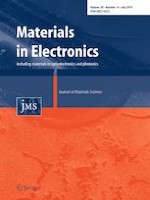 Role of barium substitution on oxygen vacancy reduction in BiFeO3 thin films
Autoren:

Muhammad Tahir, Saira Riaz, Naveed Ahmad, Syed Sajjad Hussain, Murtaza Saleem, Shahzad Naseem
Wichtige Hinweise
Publisher's Note
Springer Nature remains neutral with regard to jurisdictional claims in published maps and institutional affiliations.
Abstract
Despite high antiferromagnetic Neel and ferroelectric Curie temperature bismuth iron oxide (BiFeO
3
) is inherited with some drawbacks. These drawbacks include its weak ferromagnetic behavior and large leakage current. For overcoming these drawbacks we here report sol–gel preparation of barium substituted BiFeO
3
(Bi
1-

x
Ba
x
FeO
3
;
x
 = 0.0–0.3) thin films. Formation of rhombohedrally distorted structure is observed in XRD patterns. Replacement of Ba
2+
in host lattice leads to strain relaxation in films. This will create oxygen vacancies that are less in number and less mobile and suppressed. Decrease in oxygen vacancies with increase in substitution level is also confirmed using XPS and EDS analysis. Barium atoms are fully dissolved in the lattice at low substituent concentration (
x
 = 0.05–0.2). At high concentration (
x
 = 0.25 and 0.3) peaks corresponding to BaO phase are observed in XRD patterns. SEM images show grain size < 60 nm. Increase in dielectric constant takes place from 45.8 to 153.61 (log
f
 = 4.0) with increased barium concentration from 0.0 to 0.2. Cole–Cole plots indicate the dominant role of grain boundaries in dielectric process. Detailed room temperature impedance and Arrhenius plots reveal that oxygen vacancies are less mobile and suppressed. This results in enhanced insulting nature of thin films. This is also supported by high activation energy of 1.8 eV. Enhanced dielectric constant and decreased conductivity is also supported by increase in work function from 5.08 to 5.12 eV. Bi
1–

x
Ba
x
FeO
3
thin films show ferromagnetic behavior. High saturation magnetization of 139.35 emu/cm
3
is obtained for barium concentration
x
 = 0.2. Decrease in magnetocrystalline anisotropy and size of single domain also adds to enhancement of magnetization.