02.11.2020 | High-Temperature Capillarity | Ausgabe 13/2021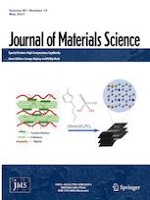 Role of Si in the wetting of TiC by Al
Zeitschrift:
Autoren:

Rui-Fen Guo, Ya Wang, Yun-Hai Ma, Ping Shen
Wichtige Hinweise
Handling Editor: Philip Nash.
Publisher's Note
Springer Nature remains neutral with regard to jurisdictional claims in published maps and institutional affiliations.
Abstract
The wettability of TiC by Al alloys plays a key role in the preparation of TiC-reinforced Al matrix composites. Despite some prior work has been reported on this issue, few studies concern the influence of Si. In this work, the effects of Si concentration (0, 7Si, 12Si in wt%) and temperature on the wettability in the Al/TiC system were investigated by a dispensed sessile drop method at 1073–1173 K in a high vacuum. The initial contact angles were 103°–105°, almost independent of temperature, while the final contact angles decreased with increasing temperature. Formation of an Al4C3 phase and adsorption of the displaced [Ti] at the solid–liquid interface were two primary driving forces for the wetting improvement. On the other hand, an increase in the Si concentration greatly weakened the stability of TiC in Al melt, promoted the formation of Al4C3, and thus led to the faster spreading of the liquid in the early wetting stage. However, as the interfacial reaction progressed, the displaced [Ti] was bound by the Si in the Al melt due to their strong chemical affinity, thus weakening the adsorption effect of [Ti] for the wetting. As a consequence, the final apparent wettability of the Al–Si/TiC system was even worse than that of the Al/TiC system, and this situation was more prominent with increasing Si content.