20.10.2015 | Ausgabe 2/2016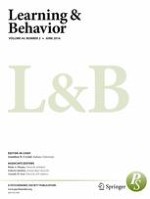 Role of the discriminative properties of the reinforcer in resurgence
Zeitschrift:
Autoren:

Mark E. Bouton, Sydney Trask
Abstract
In three experiments with rat subjects, we examined the effects of the discriminative effects of reinforcers that were presented during or after operant extinction. Experiments
1
and
2
examined resurgence, in which an extinguished operant response (R1) recovers when a second behavior (R2) that has been reinforced to replace it is also placed in extinction. The results of Experiment
1
suggest that the amount of R1's resurgence is a decreasing linear function of the interreinforcement interval used during the reinforcement of R2. In Experiment
2
, R1 was reinforced with one outcome (O1), and R2 was then reinforced with a second outcome (O2) while R1 was extinguished. In resurgence tests, response-independent (noncontingent) presentations of O2 prevented resurgence of R1, which otherwise occurred when testing was conducted with either no reinforcers or noncontingent presentations of O1. In Experiment
3
, we then examined the effects of noncontingent O1 and O2 presentations after simple extinction in either the presence or the absence of noncontingent presentations of O2. Overall, the results are consistent with a role for the discriminative properties of the reinforcer in controlling operant behavior. In resurgence, the reinforcer used during response elimination provides a distinct context that controls the inhibition of R1. The results are less consistent with an alternative view emphasizing the disrupting effects of alternative reinforcement.