14.09.2018 | Ausgabe 1/2019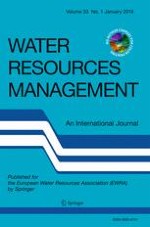 Role of Transformative Capacity in River Basin Management Transformations
Zeitschrift:
Autoren:

Aleksi Räsänen, Paula Schönach, Alexandra Jurgilevich, Milja Heikkinen, Sirkku Juhola
Wichtige Hinweise
Highlights
• Lack of studies analyzing transformative capacity in RBM in a multi-scale setting
• We analyzed transformations and transformative capacity in the River Vantaa basin, Finland
• Temporal analysis by examining earlier research, policy documents and a stakeholder workshop
• Three transformations can be identified that have steadily improved the water quality
• Transformations and transformative capacity are in a multidimensional relationship
Abstract
To tackle problems related to water quantity and quality, transformations in water management systems have become of increasing interest. Transformative capacity can be defined as the ability first to adapt to changes, and if needed, to carry out fundamental changes in a specific system. Using a framework of ten components of transformative capacity and an analysis of earlier historical research, policy documents and data gathered in a stakeholder scenario workshop, we examine the relationship between past and future transformations and transformative capacity in river basin management in the River Vantaa basin, located in southern Finland. In the past, River Vantaa was heavily polluted by municipal wastewater. The water quality has gradually improved but is still not considered good. The most successful changes have been concentrated on point source pollution, such as municipal wastewater, and they have mostly been driven by public administration and municipal coordination. In the future, more effort should be put on diffuse pollution, especially agricultural loading, and this requires changes in societal values and new forms of governance. We show how the past transformations have partly been driven by transformative capacity, but some transformations have enabled changes in the components of transformative capacity, indicating the interconnectedness of the different components. Furthermore, the interplay between transformations and transformative capacity occurs across spatial and temporal scales. We discuss how transformations take time, how transformative capacity evolves over longer time-spans, and how capacity and trajectories in local and wider scales are in a continuous interaction.