12.11.2016 | Original Paper | Ausgabe 1/2017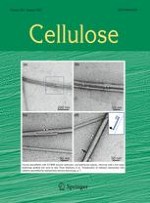 Room temperature dissolution of cellulose in tetra-butylammonium hydroxide aqueous solvent through adjustment of solvent amphiphilicity
Zeitschrift:
Autoren:

Wei Wei, Fanbin Meng, Yuhu Cui, Man Jiang, Zuowan Zhou
Wichtige Hinweise
Electronic supplementary material
The online version of this article (doi:
10.​1007/​s10570-016-1113-9
) contains supplementary material, which is available to authorized users.
Abstract
The amphiphilicity of solvent systems is realized for adjusting the dissolution of natural cellulose by making use of tetra-butylammonium hydroxide (TBAH) as an example. TBAH aqueous solution is found to have an obvious effect on adjusting its amphiphilicity, along with a flexible concentration ranging from 40 to 60 wt% for dissolving cellulose. With a suitable amphiphilic property, cellulose can be dissolved by a TBAH aqueous system . The experimental results demonstrate that with the introduction of urea (more than 0.2:1, w:v) into a TBAH aqueous system, the dissolution process of cellulose can be dramatically promoted, leading to a transparent solution of cellulose. Herein, a complex solvent of TBAH/urea has been proposed for mild and effective dissolution of cellulose under ambient conditions. In the TBAH/urea complex solvent, the structure of the hybrid hydrate of TBAH and urea formed. Urea served as a hydrophobic contributor adjusting the amphiphilicity of the solvent system, allowing interfacial resistance between the amphiphilic crystal surfaces of the natural cellulose and solvent to be reduced. After that, the crystal of natural cellulose could be fully infiltrated and subsequently dissolved by the TBAH/urea aqueous solvent. The performances of the aqueous solvent and ambient temperature dissolution make aqueous TBAH/urea a potential and green solvent of cellulose for broad applications, such as composites, films or wet spinning of cellulose, in laboratories or industries.