01.04.2013 | Ausgabe 4/2013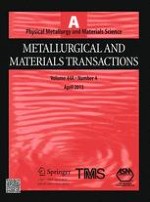 Room-Temperature Mechanochemical Synthesis of W2B5 Powders
Zeitschrift:
Autoren:

Selim Coşkun, M. Lütfi Öveçoğlu
Wichtige Hinweise
Manuscript submitted May 23, 2012.
Abstract
The mechanochemical synthesis of W
2
B
5
powders was successfully carried out at room temperature. WO
2.72
, B
2
O
3
and Mg powder blends were mixed to form batches according to the metallothermic reduction of WO
2.72
and B
2
O
3
with Mg, which were subsequently mechanically alloyed (MA) using a Spex mill at different durations to constitute W
2
B
5
+ MgO as final products. Following mechanochemical synthesis, MgO was removed from the system by leaching the powders with HCl. Microstructural and morphological characterizations of boride powders were carried out
via
scanning electron microscopy (SEM) and X-ray diffraction (XRD) analyses. Moreover, atomic absorption spectroscopy (AAS) and differential scanning calorimetry (DSC) experiments were carried out to monitor the purity of the powders at different stages of the process. After mechanical alloying of the powder batches comprising 50 pct stoichiometrically excess amount of B
2
O
3
for 30 hours and leaching with a 7 M HCl solution, pure W
2
B
5
powders with an average particle size of 226 nm and an average grain size of 55.3 nm were successfully synthesized.