2020 | OriginalPaper | Buchkapitel
12. Routing and Wavelength (Spectrum) Assignment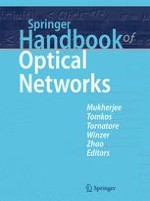 Erstes Kapitel lesen
Autoren: Jane M. Simmons, George N. Rouskas
Verlag: Springer International Publishing
Zusammenfassung
Routing a connection from its source to its destination is a fundamental component of network design. The choice of route affects numerous properties of a connection, most notably cost, latency, and availability, as well as the resulting level of congestion in the network. This chapter addresses various algorithms, strategies, and tradeoffs related to routing.
At the physical optical layer, connections are assigned a unique wavelength on a particular optical fiber, a process known as wavelength assignment (). Together with routing, the combination of these two processes is commonly referred to as . In networks based on all-optical technology, WA can be challenging. It becomes more so when the physical properties of the optical signal need to be considered. This chapter covers several WA algorithms and strategies that have produced efficient designs in practical networks.
A recent development in the evolution of optical networks is flexible networking, where the amount of spectrum allocated to a connection can be variable. Spectrum assignment is analogous to, though more complex than, wavelength assignment; various heuristics have been proposed as covered in this chapter. Flexible (or elastic) networks are prone to more contention issues as compared to traditional optical networks. To maintain a high degree of capacity efficiency, it is likely that spectral defragmentation will be needed in these networks; several design choices are discussed.