2016 | OriginalPaper | Buchkapitel
Routing over VANET in Urban Environments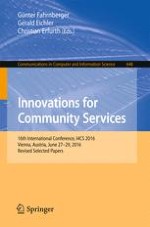 Erstes Kapitel lesen
Autoren: Boubakeur Moussaoui, Salah Merniz, Hacène Fouchal, Marwane Ayaida
Abstract
Experimental deployment of Cooperative Intelligent Transport Systems have been undertaken these last years. But a real deployment is lower than expected. One of the main reasons is the high cost of investments of Road Side Units on roads. Road operators need a lot of money in order to achieve this deployment. We suggest to reduce this investment by the deployment In this paper, we propose a combination of GPSR (Greedy Perimeter Stateless Routing) and an extension of Reactive Location Service denoted eRLS. They used to be combined, i.e. GPRS takes care of routing packets from a source to a destination and eRLS is called to get the destination position when the target node position is unknown or is not fresh enough. When a destination is not in the area of the sender, the exact position of the target is first looked for. An extra overhead is generated from the sender to the receiver since t is quite complicated to have an efficient Location System service as RLS. In the meantime, in deployed Cooperative Intelligent Transport Systems (C-ITS), fixed components are usually installed and denoted road side units (RSUs). In this paper we suggest to use these fixed RSUs to achieve the location service.
When a sender needs to send a packet, it first looks for the next RSU and sends the packet to it This RSU is connected to all other RSUs using a wired network. The aim is to find the nearest RSU to the destination. It is done thanks to a request on all RSUs Then the packet is forwarded to it. The last step is to look for the target node in the area of this last RSU. Even if the node has moved, we will have more chances to reach the node in this area.
Experimentations of our proposes solution have been done over the NS-3 simulator where an extension of RLS is developed and included on the simulator. The obtained results have shown a better accuracy vehicle locations and better performances in terms of delay.