2016 | OriginalPaper | Buchkapitel
5. RR in Fe and FeCr Alloys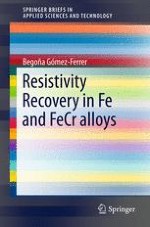 Erstes Kapitel lesen
Autor: Begoña Gómez-Ferrer
Abstract
The objective of the present work was to provide complete and high-temperature resolution RR curves on samples with Cr contents of 5, 10, and 15 %, respectively, with a well-controlled composition and microstructure and improvement with respect to the data provided by Benkaddour et al. [
1
]. In this case, the irradiations have been performed with protons instead that with electrons, and thus, the type of created damage must be evaluated. Also as a consequence of the considerations which have been made in Chap.
2
concerning the SRO and its effects enhanced by defect migration, an improved methodology to measure RR—which has been described in Sect.
2.​5
—has been performed on Fe–Cr alloys in order to check the importance of such effects on the RR experiments. As a consequence from the connection between the interpretations of the results in each section with the next one, here both the results and the discussion are presented in one common chapter. This chapter is divided into five main sections. Sect.
5.1
of this chapter is devoted to the characterization of the residual resistivity of studied Fe–Cr alloys and the evaluation of the effects of Cr addition to pure Fe in terms of residual resistivity . Next, the damage produced by electrons, neutrons , and protons is discussed in Sect.
5.2
. Also, a detailed study made based on modeling tools of our 5 MeV proton irradiations is presented. The third part, Sect.
5.3
, provides a description of specimen characteristics and irradiation runs, the experimental measurements of resistivity values of studied specimens along low-T Irr. This section includes the analysis of effects of irradiation as a function of C
Cr
. Sect.
5.4
includes RR curve and RR spectrum from a proton-irradiated pure Fe specimen. Their analysis is very useful given that it allows comparisons with many experimental results found in the literature and that has been described and critically reviewed in Sect.
4.​2
and help to identify the temperature intervals at which the processes should be occurring in proton-irradiated samples. Finally, the fifth part, 5.5, is the most important, where RR results of concentrated Fe–Cr alloys will be provided and discussed. An initial analysis on the results obtained under the classical RR method put in evidence the important SRO effects. Then, RR results obtained with the proposed improved RR method, its discussion, and some complementary Mössbauer measurements are given.