Erschienen in: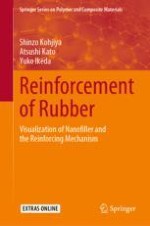 2020 | OriginalPaper | Buchkapitel
1. Rubbery Materials and Soft Nanocomposites
verfasst von: Shinzo Kohjiya, Atsushi Kato, Yuko Ikeda
Erschienen in: Reinforcement of Rubber
Verlag: Springer Singapore
Abstract
Rubbers are to be vulcanized and reinforced for their applications. Vulcanization is the most important prerequisite for displaying a stable rubber elasticity for practical utilization, while rubber reinforcement is to meet the demands of practical uses in terms of mechanical and some other functional requirements. Among lots of ingredients for rubber compounding, carbon black (CB) was found to afford several crucial characteristics for rubber tires as well as mechanical strength, early in the twentieth century. Since then, CB has been the most important filler for rubber industry, and the natural rubber (NR)-CB combination pioneered a new concept, polymer composite, together with the use of the rubber/fiber composition. This chapter gives a highly scientific but still general introduction to rubber reinforcement by means of filler. Traditional approaches are briefly described, too, from a retrospective point of view, which are expected to afford an excellent base for a modern approach to rubber reinforcement in this century.