2014 | OriginalPaper | Buchkapitel
10. Ruin Problems and Gerber–Shiu Theory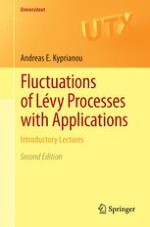 Erstes Kapitel lesen
Autor: Andreas E. Kyprianou
Verlag: Springer Berlin Heidelberg
Jetzt einloggen
Abstract
A natural generalisation of the classical Cramér–Lundberg insurance risk model is a spectrally negative Lévy process; also called a
Lévy insurance risk process
. In this chapter, we shall return to the first-passage problem for Lévy processes, which has already been studied in Chap.
7
, and look at the role it plays in a family of problems which have proved to be an extensive topic of research in the actuarial literature. Many of the problems we shall consider are inspired by the longstanding collaborative contributions of Hans Gerber and Elias Shiu, thereby motivating the title of this chapter.
We shall start by reviewing classical results that have already been treated implicitly, if not explicitly, earlier in this book. Largely, this concerns the exact and asymptotic distributions of overshoots and undershoots of the Lévy insurance risk process at ruin. Thereafter, we shall turn our attention to more complex models of insurance risk in which dividends or tax are paid out of the insurance risk process, thereby adjusting its trajectory. In this setting, a number of identities concerning ruin of the resulting adjusted process, as well as the dividends or tax paid out until ruin, are investigated.