08.07.2020 | Ausgabe 10/2020 Open Access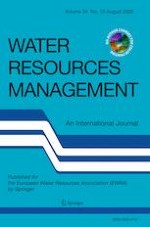 Rule-Based Object-Oriented Water Resource System Simulation Model for Water Allocation
Zeitschrift:
Autoren:

Pengfei Lin, Jinjun You, Hong Gan, Ling Jia
Wichtige Hinweise
Publisher's Note
Springer Nature remains neutral with regard to jurisdictional claims in published maps and institutional affiliations.
1

Introduction

Water allocation and effect evaluation are two major aspects of decision-making for water planning and management (Robert and Lynne

1997

; Yin et al.

2011

). Along with the rapidly increasing social-economic development, more water is abstracted from the natural water cycle, while an increased sewage discharged back to the river (Falkenmark

1997

; Zhang et al.

2012

). The water cycle system has been transformed from the unitary natural water cycle to the dual nature–social water cycle (Qin et al.

2014

). This calls for a new conception to take into account the coupling process associated with the natural hydrological cycle and water movement by water utilization into account as a whole (Lu et al.

2018

). Therefore, corresponding water resource system modelling with new conceptions and techniques is required, to simulate the reality of the complicated process of water movement and transformation integrally.

Decision-making on water allocation is mainly based on the optimization method or the optimization technology combined with the simulation technology (Dunia et al.

2017

). Applications prove that satisfactory results could be calculated by the optimisation model when the scale of the studied area is limited and when there are definite objectives and constraints. However, owing to the complexity of the water resource system, it is difficult or even impossible to create an optimisation model based on reasonable objectives and constraints. In this way, simpler mathematical methods can be used to calculate the processes based on experience. Water resource system is naturally in accordance with characteristic of object-oriented programming (OOP), and the advantages of its application into simulation for water resources (Kheireldin and El-Dessouki

1998

). Therefore, the work focus on the development of object-oriented simulation models with a computational framework is improved (Reitsma and John

1997

; Alfieri et al.

2006

). With OOP idea, the same category of elements in the system, can use unified parameters expressing its characteristics and behavior, thus to facilitate the division of the object-oriented method description water allocation system.

The paper aims to propose a rule-based objected-oriented water resources allocation Simulation Model (ROWAS) and its application to realize the simulation of a complex system composed of natural and social water cycle. ROWAS is a simulation model with a framework, in which a river basin is modelled as a congregate of normalised objects that represent the physical entities or abstracted objects of the river basin (You et al.

2005

). To describe the major processes the model is constructed based on a set of designed rules, which water the movement and conversion in the system are conceptualized and described clearly. To realize this goal, the system is divided into layers with water source, an idea of stratification applied in water-related simulation (Panagopoulos et al.

2012

; Bathrellos et al.

2017

). Calculation rules are determined based on the characteristics of water sources (Han et al.

2007

) to reduce the calculation dimension. ROWAS can simply but entirely describe both natural and artificial water processes under reasonable assumptions, provide various resultsand information based on detailed the situation of water cycle. Ultimately, through an iterative use of the model, different scenarios can be simulated and refined with predefined input data.
3

Study Area and Data
3.1

Study Area

Haihe River basin is located in North-China (Fig.

5

), and covers an area of 320,000 km

2

, with 60% mountain and 40% plain areas. The total population is approximately 130 million, and is most concentrated in the plain area, including the mega cities of Beijing and Tianjin. The annual average precipitation (539 mm) of Haihe River basin is lower than the national average (628 mm). Obviously, water shortage and related eco-environmental issues in North China have become the substantial threat to impact sustainable development. Furthermore, this region is very important as the political, cultural and economic center of China. The SNWD project is presented as a strategic work to solve the water scarcity in the region after long-time research. There are 2 routes (Middle Route and East Route) supply water.
×
3.2

Data Preparation

(1)

Inflow and characteristics of system elements. Water resources system network is the fundamental work of simulation, which describes the major relations of water movement in system. There are 125 calculating units and 64 nodes, including large-scale water projects and important a provincial boundary cross the major rivers. The other middle and small large-scale projects are conceptualised into the local catchments of the units. For each large-scale project, there is a set of regulation rule curves to control its operation.

(2)

Water demand and its processing. A water demand of six sectors, including urban domestic, rural domestic, industry, agriculture, urban ecosystem and rural ecosystem. According to the forecast, the total water demand in 2030 will be 50.1 billion m 3.

(3)

Hydrological data: 50-year long monthly series from 1956 to 2005, runoff of each calculating units and reservoir.
4

Results and Discussion
4.1

Results
4.1.1

Water Balance of Supply and Demand

Two scenarios are simulated and the results in Table

4

. Scenario 1 follows the current pattern of water supply without the SNWD project and perimts groundwater over pumping. Scenario 2 considers the SNWD project and restrictions on control on groundwater pumping. By comparison, the results show that the local water resources are insufficient in the future, and inter-basin diversion is necessary for demand and supply balance in 2030 accompanying the rapid increase of water demand and reduction of groundwater pumping.

Table 4

Supply and demand of different water users (unit: million m 3)
Water user

Demand

Supply

Deficit

Scenario 1

Scenario 2

Scenario 1

Scenario 2

Urban domestic

3797.0

3797.0

3797.0

0.0

0.0

Rural domestic

1608.2

1608.2

1608.2

0.0

0.0

Industry

11481.7

11481.7

11481.6

0.0

0.1

Agriculture

31887.4

31784.4

31884.2

103.0

3.3

Urban ecosystem

1009.2

1008.7

1008.9

0.5

0.3

Rural ecosystem

346.2

345.7

288.7

0.5

57.5

Total

50129.8

50025.8

50068.7

104.0

61.1
4.1.2

Analysis of Water Source Structure

Despite of minor gap in water shortage, supply proportion of different water sources of the two schemes is obviously different (Table

5

). In scenario 1 the groundwater exploitation is 30.9 billion m

3

, which seriously exceeds the groundwater exploitable of the Haihe River basin. Compared with scenario 1, the underground water supply by 6.18 billion m

3

lower, the result show SNWD project can effectively replace the underground water quantity and support sustainable water use in Haihe River basin.

Table 5

The amount of water supplied by different sources (unit: million m 3)
Scenario

Surface water

Inter-basin water

Ground

water

Irregular

water resources

Total

Div.

from YR a

SNWD

total

Scenario 1

10746

5120

0

5120

30937

3221

50025

Scenario 2

9824

5100

7027

12127

24755

3360

50068
4.2

Discussion
4.2.1

Relationship of Different Water Sources

The displacement of water source can be further analyzed with the ROWAS model. Although the groundwater decreases and externally diverted water increases with the SNWD, it is not a direct substitute because their water users are different. Figure

6

shows that the displacements of externally diverted water and groundwater are implemented indirectly, and the additional externally diverted water is mainly supplied to domestic and industrial users, thus replacing local surface water. Local surface water supplies more for agriculture, thereby enabling groundwater replacement.
×
Relationship between water sources and water user is critical and complex for water allocation simulation. Such relationship can be precisely illustrated by ROWAS model through multi-layers network. Both the summarised results and the detailed information in concrete objects can be evaluated conveniently. When there is no mutual restriction on the priority of water sources, the order of utilisation can be adjusted according to the actual situation. Based on parameter control, the priority order of the use of water can be adjusted, and the decision maker flexibly adjusts different water source order as the design condition of the scheme, this reflects the simulation effects at different decision-making modes.
4.2.2

Analysis of Water Exchange in Water Source Network Layer

According to the stratified network division of water sources, the same water sources can be reduced owing to the loss of evaporation and leakage in the vertical direction during the movement of their own network, but they cannot be converted into other water sources, and can only be converted into other water sources at system nodes such as units. Table

6

shows the water conversion relationship of different water source network layers in scheme 2. According to the simulation results, the most frequent water exchange is between the local surface water layer and surface water supply layer. 10.5 billion m

3

of water from the local surface water layer to surface water supply layer, meant the reality of water exploitation from the natural water cycle. According to the topological relation of the network, there are many transformation relations of the partial water amount in the same calculation period. The more complex the system structure is, the more common these transformation relationships are, and closer they are to the actual processes. Based on parameter control, ROWAS model can control and realise the exchange of water in different network layers, and is conducive to the analysis of water balance in complex basins.

Table 6

Simulation results of water exchange relationship of each water source layer for scheme 2 (unit: 100 million m 3)
Water layer a

Local

surface water

Surface

water supply

Untreated

sewage

Inter-basin

Diversion Water

groundwater

Local

surface water

-

105

0

0

3.9

Surface

water supply

36.4

-

0

0

8.5

Untreated

sewage

27

34

-

0

1.8

Inter-basin

Diversion Water

0

8.4

0

-

0
5

Conclusion

Human activities affect natural water cycle and form new processes, which co-exist with natural water cycle but have relatively independent processes. The increasing scale of the water resource system and the increasing influence factors have led to more complex structure and higher requirements for decision-making of water allocation.

ROWAS provides an idea and method to solve the simulation of water allocation in macroscopic and realistic process. Under general design, it can be modified to adapt the condition of specific area. The application in Haihe River basin show its flexibility and controllability. It can assist the planners to handle planning of a water resources system in accordance with different water utilisation level and natural hydrological condition.

This simulation model is still needed to be improved. It is necessary and promising to continue this work thanks to the complexity of the water resources system. One aspect is to improve the conceptual framework to be compatible for more water related processes. In addition, the optimisation method for calibration of the parameters in model is also important for applications, which can improve the efficiency, since there are too many parameters to implement manual adjustment, while analysing large-scale systems.
Compliance with Ethical Standards
Conflict of Interest
The authors declare no conflicts of interest.
Open Access
This article is licensed under a Creative Commons Attribution 4.0 International License, which permits use, sharing, adaptation, distribution and reproduction in any medium or format, as long as you give appropriate credit to the original author(s) and the source, provide a link to the Creative Commons licence, and indicate if changes were made. The images or other third party material in this article are included in the article's Creative Commons licence, unless indicated otherwise in a credit line to the material. If material is not included in the article's Creative Commons licence and your intended use is not permitted by statutory regulation or exceeds the permitted use, you will need to obtain permission directly from the copyright holder. To view a copy of this licence, visit
http://​creativecommons.​org/​licenses/​by/​4.​0/​
.
Publisher's Note
Springer Nature remains neutral with regard to jurisdictional claims in published maps and institutional affiliations.