2019 | OriginalPaper | Buchkapitel
Safe Transitions of Care: A Participatory Human Factors Approach for Improving Safety in the Communication of Healthcare Organizations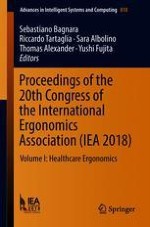 Erstes Kapitel lesen
Autoren: G. Toccafondi, S. Albolino, T. Bellandi, A. Savelli, G. Frangioni, O. Elisei, M. Baroni, A. Molisso
Abstract
Care transitions are critical moments which may expose patients to adverse events and generate organizational failures. Ineffective care transition processes lead to higher hospital readmission rates and costs and patients can be harmed when the many moving parts of their care process are not effectively coordinated.
The human factor and patient safety approach can provide effective methodologies for the design of tools to improve the ability of health care workers to make available key information at the right time, ensuring patient safety and continuity of the clinical pathway.
In order to unveil what promotes or hinders effective communications at care transitions we involved health care workers of 10 dyads of inpatient care units (250 operators accounting for 1500 care transitions) in an action research process. The aim was to endow the participants with the skills necessary for evaluating the organizational context in which the handovers occur and give them support in prompting the interventions for constructing an organizational context underpinning safer communications at care transitions.
In particular through the application of the FMEA technique the highest priority of interventions have been assigned to 7 pitfalls which need to be taken into account in order to amplify the capability of organizations to implement the handover patient safety practice and fruitfully maintain it. Communication at care transitions is a fundamental testbed for the resilience of complex healthcare organizations. We attempt to increase the safety of communication during care transitions in order to allow healthcare organization to sustain required operations, in the presence of continuous stress. To achieve that we tried to endow the healthcare workers with the methodological tools for analyzing the current situations and adapt it in order to embrace the handover patient safety practice.