2018 | OriginalPaper | Buchkapitel
2. Sales and Operations Interactions:
Never the Twain Shall Meet?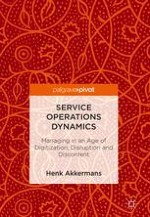 Erstes Kapitel lesen
Autor: Henk Akkermans
Abstract
This chapter looks at the classical misalignment between Sales and Operations. It sometimes looks like the two shall never meet. Digitization complicates matters further. Although services are becoming IT-enabled and fast-changing, they are still being delivered via compartmentalized service supply chains. Here, breakdowns in one stage amplify downstream, which makes it extremely difficult to maintain stability. These complications, and the challenges they pose to balancing sales with operations, are described with a case study of an American telecom company that was suffering from fluctuations in its service supply chain. The chapter provides a system dynamics analysis of the root causes of these fluctuations and also gives recommendations on how to maintain balance in this inherently unstable setting.