01.09.2016 | Thematic Issue | Ausgabe 18/2016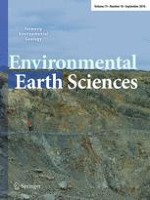 Salinity evolution of coastal soils following reclamation and intensive usage, Eastern China
Zeitschrift:
Autoren:

Aijing Yin, Ming Zhang, Chao Gao, Xiaohui Yang, Yan Xu, Pengbao Wu, Huan Zhang
Wichtige Hinweise
This article is part of a Topical Collection in Environmental Earth Sciences on "Environment and Health in China II". Guest edited by Tian-Xiang Yue, Cui Chen, Bing Xu, and Olaf Kolditz.
Abstract
Salinity is the main limiting factor for agriculture development in coastal areas. Knowledge of the spatial distribution and temporal evolution of soil salinity following reclamation is of great importance for agricultural management in the coastal area of Eastern China, where reclamation of tidal flats is a common practice to expand land resources. In this study, 241 samples of tidal flat sediment and reclaimed soil samples from different reclamation years and under different land uses in a typical coastal field of the Jiangsu Province, Eastern China, were collected and analyzed for salt content and ion composition. The soil salinity decreased gradually with reclamation time. The salt contents decreased from an average of 7.57 g kg−1 in the tidal flat sediments to 0.61 g kg−1 after 60 years reclamation and reached a level acceptable for most crop plants. Decreases in Na+ and Cl− and relative increases in Ca2+ and SO4 2− were also observed with increases in reclamation time. Land use played a key role in the desalination process. Conversion of a tidal flat to a fish farm followed by dominant plant farming practices in the region proved to be an efficient strategy for desalination. The results of this study also proved that cokriging interpolation with Cl content is a robust way to obtain more precise salinity predictions in coastal areas.