2013 | OriginalPaper | Buchkapitel
36. Salt Response of Halophytes with Potential Interest in Food Crops and Reclamation of Saline Soils: Growth, Water Relations, Mineral Content and Anatomical Adaptations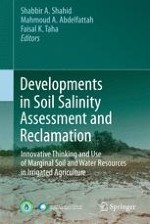 Erstes Kapitel lesen
Autoren: Salma Daoud, Hans-Werner Koyro, M. Cherif Harrouni
Verlag: Springer Netherlands
Abstract
Considering the interest for arid and semi-arid regions to improve biosaline agriculture by domestication and sustainable use of halophytic plants in salt-affected regions, present work was accomplished by studying diverse ecophysiological mechanisms of several promising candidates such as
Batis maritima
,
Sporobolus spicatus
,
Spartina alterniflora
,
Sesuvium portulacastrum
,
Beta vulgaris
ssp.
maritima
and
vulgaris
and
Aster tripolium
. They all share high economic potential, the ability for reclamation of salt-affected lands and to survive at high salinities. Seawater was used as the source of saline water at different dilutions with fresh water: 0% (control: fresh water), 25, 50, 75 and 100% seawater. Plants were cultivated in an automated irrigation and drainage system, in coastal sand as substrate, under highly reproducible greenhouse conditions (
quick check system
). The salt-tolerant species survived at all salinity treatments, and maximum growth occurred in low and moderate salinities (25 and 50% seawater). Beyond the optimal growth treatment, a progressive growth decrease took place. Threshold of salinity tolerance differed from one species to another which is related to osmotic adjustment by the regulation of minerals and water uptake from culture medium. To avoid toxicity of excess ion accumulation, halophytic plants have developed morphological and anatomical adaptations at the scale of the whole plant. The Na
+
and Cl
−
were the dominant ions, and their concentrations increased with the increase of seawater concentrations while K
+
concentration decreased. However, the degree of NaCl – and the maintenance of K
+
content – accumulation differed between species. One similarity of all halophytes was the unaffected Ca
2+
uptake and transport through the plants when plants are irrigated with seawater which is rich in Ca
2+
.