2013 | OriginalPaper | Buchkapitel
35. Salt Response of Some Halophytes with Potential Interest in Reclamation of Saline Soils: Gas Exchange, Water Use Efficiency and Defence Mechanism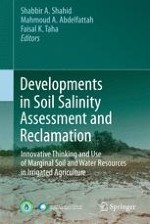 Erstes Kapitel lesen
Autoren: Hans-Werner Koyro, Salma Daoud, M. Cherif Harrouni
Verlag: Springer Netherlands
Abstract
Most models about global changes predict the development of salt deserts with strongly degraded vegetation, unhealthy living conditions and negative impact on economic goods. The reservoir of freshwater on earth (especially in arid zones) is not sufficient to ensure the feeding of manhood in future. Furthermore, the substitution of freshwater against saline sources in combination with unprofessional artificial irrigation systems leads to an increasing destruction of useful areas and to strong economic damages. The consecutive increase of soil salinity is a threat for the productive land because most crops have only a low degree of salt resistance. In future, halophytes, plants with a natural high salt resistance, can play a major role for the rehabilitation and economic use of salt-affected habitats. Halophytic ecosystems present a high productivity and can be the base for a sustainable agriculture on saline soils.
A precondition is the extension of the up to now incoherent knowledge about the ecology of halophytes, their economic potential and – for the warranty of a sustainable use – also about their individual mechanisms of resistance. The physiological studies with the sea water irrigation system shown in this chapter have the potential to provide highly valuable means of detecting individual mechanisms of species against NaCl toxicity and may also provide opportunities for the comparison and screening of different varieties for their adaptation to salinity (QCS for cash crop halophytes). After the selection of halophytic species suited for a particular climate and for a particular utilisation, greenhouse experiments at the local substrates (and climatic conditions) to select and propagate promising sites have to be started.
Worldwide, initiatives are being undertaken to develop saline vegetable crops, as well as crops for fuel and fibre, but the use of halophytes is still in the early stages of development.