2015 | OriginalPaper | Buchkapitel
4. Sand Mining Externality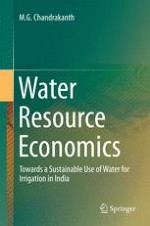 Erstes Kapitel lesen
Autor: M.G. Chandrakanth
Verlag: Springer India
Abstract
Sand mining is an example of reciprocal externality impinging on groundwater extraction. The demand for sand is rising in recent years due to its indispensability of use in civil construction, due to a spurt in urbanization and increased demand for housing. In order to meet the existing demand, sand is mined illegally. The demand for sand has driven lorry owners and contractors to search for quality sand deposits in different river streams.
De jure
, according to the Department of Mines and Geology of the Government of Karnataka, sand in river/water streams is allowed to be extracted to a maximum depth of 3 ft from the surface to allow for groundwater recharge. If sand extraction exceeds the limit of extracting sand beyond the depth of 3 ft, it is termed 'sand mining' and will affect groundwater recharge. Such an overextraction of sand is inhibiting the riverbed's ability to withhold and transmit groundwater to open wells and borewells on either side of the stream.
Ceteris paribus
, demand for sand is a function of the price of sand, its quality suitable for construction work, access to approach road, availability of labour, mechanized equipments and governance in executing the rule of sand extraction. Along the riparian areas, sand serves as the medium to recharge the groundwater. Sand over time is accumulated in layers along the river path, along the natural flow of surface water and this is keeping the riparian areas recharged with groundwater and the associated river ecosystems. Here, the externality due to sand mining on groundwater irrigation is estimated.